Hello, dear reader. Welcome once again.
What is this? This is the first Indie Promotion Day post. I will use this recurring opporunity to bring a book by an independent author to your attention, each week around this time. Independent authors work hard for their books and stories and oftentimes go unnoticed, so here is my humble attempt to change this situation.
So, may I present today's Indie Promotion:
Between Darkness and Light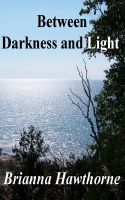 by Brianna Hawthorne
Ebook Short Description:  This is book one of The Universe Cycle trilogy. Shi'ahn and her brother William find themselves transported into a realm beyond anything they could have possibly imagined. Where they had once been powerful individuals, they are now almost inconsequential – at first. This book unfolds the 'childhood' of siblings that will soon have a tremendous effect upon the fate of everyone.
Between Darkness and Light is a Scifi/Fantasy book addressing the battle between the forces of order and chaos.
Where to find.
You can find the e-book on Smashwords.com where it is available for free. It is ready for download in all the common e-book formats, like epub, Kindle .mobi, pdf, etc.